Massachusetts Cage Bird Association
---
This association is organized for the purpose of improving & promoting the care, handling, maintenance, breeding, & welfare of birds, and the sharing of useful and helful avian-related information.
Plan Now to Attend the 91st MCBA Show - Oct. 21, 2017
Location: Liberal Club, 20 Star Street, Fall River, MA 02724
Classes for Parrots & Cockatiels, Finches & Softbills
and Canaries.
Judges:
Type Canaries - Judge Luis Belchior
NFSS Finches - Judge Laura Tinker
Double SPBE Parrot & Cockatiel Sections
Judges - Linda Rubin, A.M. & Laura Tinker, P.M.
Note - No Colorbred Canary Classes
Time: Setup starts at 7:00 AM.
Entries and Vendors are welcome at 8:00 AM
Vendors will offer birds, cages, and supplies.
Please call Denise at 508-479-2789,
before the show, to sign up as a vendor.
**************************************************
**************************************************
2016 - Was the 100th Anniversary of the Mass Cage Bird Aassociation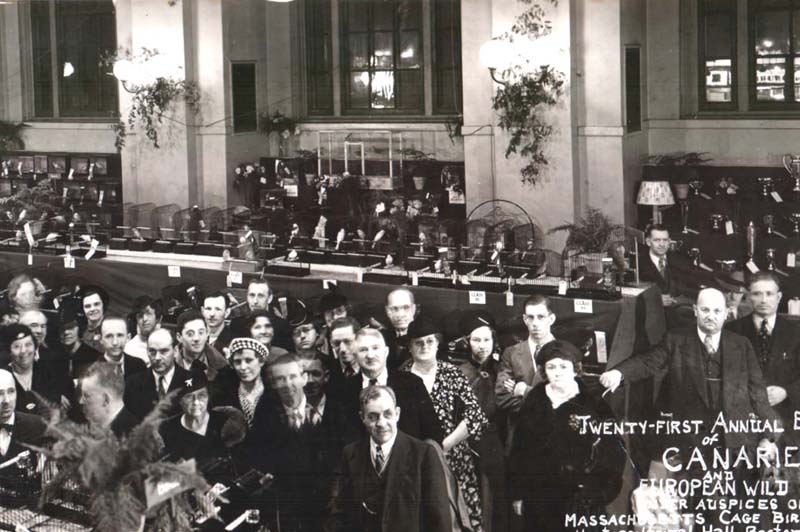 MCBA - 1937 - 21st Annual Exhibition of Canaries and European Wild Birds
Horticultural Hall - Boston, Massachusetts
---
If you wish to contribute to the activities of the MCBA, contact the president, Denise Cabral
Tel: 508-479-2789 E-mail: goshawk3@aol.com
or Les Embrey, send an e-mail: les.embrey@gmail.com
---
Membership Renewal - Please send your dues to Candace Rocha, Membership Director, as quickly as possible and be sure that you won't miss any issues of the Beakon.
Membership - New or Renewal Application
---
President: Denise Cabral Tel: 508-479-2789 E-mail: goshawk3@aol.com
Vice-President:
Secretary:
Treasurer: Leslie Embrey E-mail: les.embrey@gmail.com
Membership Director: Candace Rocha Tel.: 508-697-7188 E-mail: squrlntkn@comcast.net
Trustee:
Trustee:
Librarian/Archivist Candace Rocha
Webpage Jim McCarthy
---
MCBA was formed in 1916 Article IV of the Bylaws (2008) states the purpose as follows: [...to improve & promote] "the care, handling, maintenance, breeding, & welfare of cage birds, & the dissemination of useful & helpful avian-related information. ...[the object of] the Association is to promote the welfare of its members and bind together affiliation through good fellowship. The Association supports efforts to preserve natural wild avian habitats, efforts to preserve avian species at risk for endangerment, and efforts to further the study of avian behavior & avian illnesses. "
---